Marijuana Research at the University of Washington
Washington State Initiative 502 directed a portion of the tax revenue from marijuana production and sales in Washington to support prevention, treatment, public health, and public education related to marijuana use and misuse in Washington.


I-502 and the Legislature also directed funds to the UW and WSU for research on the short and long-term effects of marijuana use and for dissemination of research findings.
What kind of research can the UW do and not do on marijuana? See: 2014 Guidance for Researchers at the University of Washington Concerning Marijuana Research.

For the 2015-2017 biennium, ADAI received $454,000 from the Dedicated Marijuana Fund.  A new Marijuana Research Report describes the projects and products that resulted from June 30, 2015 through July 31, 2017, including a marijuana small grants program, the ADAI Cannabis Work Group, and Dissemination efforts. New projects are underway for the current year.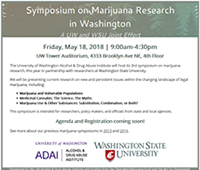 On May 18, 2018, the UW Alcohol & Drug Abuse Institute hosted its 3rd Symposium on Marijuana Research in Washington, this year in partnership with Washington State University. Panels from both universities presented on Marijuana and Vulnerable Populations; Medicinal Cannabis: The Science, The Myths; and Marijuana Use & Other Substances: Substitution, Combination, or Both?

Earlier symposia in May 2016 and November 2013 featured researchers from the UW as well as the RAND Corporation, the ACLU of Washington, WA State Liquor & Cannbis Board, WA State Dept. of Health, The Suquamish Tribe, and the WA Traffic Safety Commission. More than 150 attendees from the UW, state and local agencies, and community organizations participated each event. See more about the 2013 and 2016 marijuana symposia.
Researchers at the University of Washington are studying a variety of aspects of marijuana, including prevention and treatment of abuse, its effect on the brain, and the epidemiology of marijuana use and problems.
Alcohol & Drug Abuse Institute
Director: Dennis Donovan, PhD
http://adai.uw.edu
ADAI's mission is to advance public health policy and practice in order to improve the lives of individuals, families, and communities affected by alcohol and drug abuse. ADAI will consult with the state DSHS to identify and recommend programs and practices for treating marijuana dependence. Other marijuana-related activities at ADAI include: 

Epidemiology research: Reporting on the prevalence, treatment admissions, and arrests for marijuana sales and possession in Washington. See also: Marijuana Use Surveys: Different Methodologies May Produce Different Estimates (March 2016). This document explains why surveys that ask "How many people use marijuana?" may not come to the same result, and should be read with an understanding of the complexity in asking what might seem like a simple question.
Chronic Pain Management and Medicinal Cannabis. Dr. Bia Carlini headed this project to develop an online training for health providers. The project was funded by the WA State Office of the Attorney General.
Impacts of Cannabis & Cannabis Legalization on Impaired Driving. Dr. Caleb Banta-Green heads this study funded by the AAA Foundation to look at the potential impact of legislation on marijuana-impaired driving and crash risk. The project was conducted in collaboration with the Harborview Injury Prevention Research Center.
ADAI Small Grants program:
Using funds from I-502 revenue for research at the UW, ADAI issued an RFA for marijuana pilot projects on the short and long-term effects of marijuana use and related consequences, and the impact of legal marijuana in community norms and individual and group behaviors. Projects funded for FY2016 and FY2017.

ADAI Pilot Research Projects: 
Using funds from I-502 revenue for research at the UW, ADAI funded 6 small research projects for the FY2016 period. ADAI projects for FY2016

Dissemination of information about marijuana via symposia, ADAI Library, ADAI Clearinghouse, and the website 
LearnAboutMarijuanaWA.org.
ADAI Library & Clearinghouse
Director: Nancy Sutherland, MLS
http://lib.adai.uw.edu;
http://adaiclearinghouse.org
The ADAI Library & Clearinghouse are responsible for the dissemination of information about substance abuse science, treatment, and prevention. Marijuana-related projects include:
LearnAboutMarijuanaWA.org offers science-based but easy-to-understand information for the public, addressing questions or concerns about marijuana, with special topic pages specifically developed for parents and adolescents, and where to get help.
The ADAI Clearinghouse has distributed more than 100,000 printed resources about marijuana (brochures, posters, and factsheets) to schools, service agencies, parents, and by exhibiting at professional and community events in Washington.

Center for the Study of Health Risk Behaviors
Director: Mary Larimer, PhD
http://depts.washington.edu/cshrb
At CSHRB, Dr. Christine Lee is conducting theIndividualized Choices for Health, Alcohol, and Marijuana Project (iCHAMP). This study is evaluating an indicated prevention intervention among college students at risk for experiencing marijuana-related negative consequences.
Dr. Jason Kilmer and colleagues at CSHRB collaborated with Washington's Div. of Behavioral Health & Recovery/DSHS to implement the Young Adult Health Survey, which surveyed young adults between ages 18-25 in Washington, to explore their health behaviors including marijuana use. View Survey Results.
CSHRB previously conducted a study on "Personalized Feedback Intervention for Marijuana" that evaluated the efficacy of a personalized feedback intervention for marijuana use.
Social Development Research Group
Director: Kevin Haggerty, MSW, PhD
http://www.sdrg.org

SDRG in the School of Social Work is engaged in research about family, school, and community prevention, and along with ADAI, will consult with the state DSHS to identify and recommend programs and practices aimed at the prevention or reduction of substance abuse among middle and high school students.
Effects of Marijuana Legalization in Washington State on Norms, Use and Parenting. Dr. Rick Kosterman heads this NIDA-funded study to examine the moderating role of environmental factors and adult functioning, and assesses marijuana-specific parenting behaviors in order to inform prevention efforts. The study augments data from a Seattle-based longitudinal cohort with new marijuana-focused measures at age 39.
Stepping Up to High School - Trajectories of Marijuana Use. Dr. Alex Mason received NIDA supplemental funds to analyze trajectories of marijuana use over time and to conduct focus groups about issues related to parenting, prevention, and the new marijuana law, with the goal of developing and testing parenting messages for the prevention of marijuana use.
Marijuana Legislation and Changes in Youth Marijuana Use and Related Risk Factors. The goal of this project, headed by Dr. Katarina Guttmannova, is to understand the impact of marijuana-related legislation on adolescent marijuana and other substance use and related risk factors using time-series analysis of survey data from Colorado, Washington, and Oregon and two additional comparison states.
Using Facebook to Recruit Parents to a Parenting Program to Prevent Teen Drug Use. In this study, Dr. Sabrina Oesterle and colleagues will explore the feasibility, utility, and acceptibility of using Facebook to recruit parents to complete a self-directed program to prevent teen alcohol, tobacco, and marijuana use.
Innovative Programs Research Group
Director: Denise Walker, PhD
http://depts.washington.edu/iprg
The School of Social Work has been conducting research on marijuana for more than twenty-five years, beginning under former IPRG director Roger Roffman. Current marijuana research at IPRG:
Teen Marijuana Check-Up 4: Denise Walker continues 3 previous NIDA-funded projects developing and evaluating the Teen Marijuana Check-Up, a brief intervention intended to attract voluntary participation from adolescents who smoke marijuana. The current project aims to evaluate the efficacy of the intervention to determine its impact on teen use and readiness to change.
Marijuana Dependence Treatment PRN: Dr. Walker's second study is a two-year project that will preliminarily evaluate the effectiveness of an intervention focusing on adult marijuana dependence.
Development and Efficacy Test of Computerized Treatment for Marijuana Abuse: Principal Investigator Alan Budney, with Co-PI Denise Walker, is comparing therapist-delivered MET/CBT/CM vs. computer-delivered MET/CBT/CM to contribute to an overarching goal of developing and disseminating cost-effective treatments for cannabis disorders.
Center of Drug Addiction Research (Pharmacology)
Director: Charles Chavkin, PhD
http://depts.washington.edu/nidactr
Professor Nephi Stella, PhD, in the UW Pharmacology department focuses on how medicinal properties of marijuana can be improved to treat diverse neuropathologies.